Build A House For Mary In Garabandal -The Time Is Now!
Building For Mary, Inc., is a 501(c)3 charitable non-profit at the heart of our Prayer, Conversion, and Evangelization efforts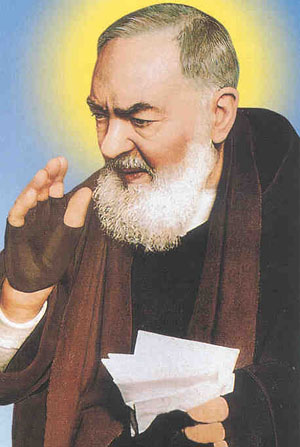 Padre Pio da Pietrelcina (1887-1968): Canonization
Before St. Padre Pio died, he arranged for the cloth that covered his face at his burial to be given to Garabandal visionary Conchita. He knew the crucial nature of Our Lady's messages flowing from this site – messages for our time, from a loving mother. If Padre Pio paid attention, then so must we!
Building a House for Mary
"Meditate on the passion of Jesus"
– Blessed Mother, Garabandal
"If my people…humble themselves and pray…I will…revive their land."
– 2 Chron. 7:14
"Stage 3" needs your help!
We have officially completed Stages 1 & 2 of construction goals for House for Mary. The House is a place set apart for meditation and retreats. Priests, religious and laity will be able come for renewal to the pilgrimage site of Garabandal, in the lovely Peña Sagra Mountains of Northern Spain.
In cooperation with civil leaders in Garabandal, we has purchased land and made great headway in constructing a large retreat center in this scenic, spiritual "hotspot."
Dear Friends, won't you answer Mary's urgent call for conversion, prayer and evangelization, by uniting with us in her project – building a House for Mary that will surely help "revive the land," and the world?
Stage 1: Foundation – Complete!
Stage 2: Walls, windows, doors – Complete!
Stage 3: Plumbing, electricity, flooring – 

WE NEED YOU!
We invite you to join in this inspired project that is 17 years in the making! The story of how Totally Yours founder, Guy Murphy, was led to build this house, is a story full of wonder and heavenly touches!
+ Hurdles for permission to build the house were jumped the very day after Guy flew to Garabandal to pray a St. Joseph Novena on the property.
+ One of the visionaries, Mari Loli Mazón, spoke to Guy on the phone, smoothing out difficult project details.
Build for Mary is a 501(c)3 Non-Profit
Donations are tax deductible to the full extant allowable by law.
Please prayerfully consider giving at these levels:
Benefactors: $2,000 or more
Patrons: $500 – $1,999
Donors $100 – $499
Supporters: $20 – $99
Donate To Help Build A House For Mary
Click On Thumbnails To Learn More About House For Mary!
Click photo above for a must-see overview video
Learn about the St. Ignatian connection!
Watch Guy on this Focus TV video about the pending prophecy!
This Focus TV video with Guy tells us how to prepare for the miracle!
Donate To Building For Mary's Triumph
Donate Via Mail
Please make your check payable to 

"

Building for Mary

"

 and mail to:
Totally Yours, 909 S. IL Route 83, Suite 201 , Elmhurst, IL 60162
Please indicate on your check if you wish your gift to remain anonymous.